Before becoming an Android fanboy advocate, I used to own a Sidekick II. In fact, it was my first smartphone. I loved it for several reasons:
Always-on Internet connection (GPRS)
Apps! Games!
Multicolored d-pad that made games playable
Instant messaging
Glorious, glorious physical keyboard aided by a scroll wheel
Multitasking (take that, old iPhone)
Cool screen mechanism with decent resolution and 65K color
Made by Sharp in Japan, the Sidekick II introduced me to smartphone-like features at a time when a cheap smartphone seemed like a distant dream. The anytime/anywhere rush of Wikipedia at my fingertips is still fresh in my memory; I can still remember the "thunk" sound from the screen snapping into place. I spent real money to get real apps and games for my Sidekick II — years before Steve Jobs dreamed of an App Store.
BEFORE THE SIDEKICK
I was a Nokia man once.  I admired their reverence for a clean, logical interface. And the fact that those cell phones were built like tanks. Lost a trusty 8260 at gunpoint in the streets of São Paulo. Got another one the very next day.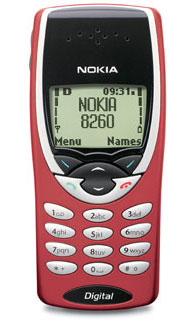 After moving to the U.S. in 2004, I was naturally forced into a pre-paid plan and a boring clamshell phone built by LG or Samsung. Once I obtained a Social Security card through UCLA, I signed a contract and… Got into yet another clamshell phone. I seemed condemned to go from dumbphone to dumbphone. Until the Sidekick II, that is.
IT WAS THE BEST OF TIMES, IT WAS THE WORST OF TIMES
That Sidekick II helped me win countless verbal arguments while testing Call of Duty 3 (Spiderman vs. Batman, Werewolves vs. Vampires, take your pick). It let me play games at the doctor's office — games in color with actual sound effects and music. It had a usable calendar and even took pictures in glorious VGA.
On the other hand, the little machine could NOT play MP3s (bummer!) or videos of any sort. The GPRS Internet was dog slow — not even mobile-optimized sites loaded quickly. Non-mobile sites would sometimes not load, period. Gizmodo, Engadget, Wired? In your dreams, baby.
But in all honesty, what was a Sidekick worth from 0 to 10? A solid, surprising 7. The Sidekick II exceeded my expectations and redefined what I could expect from a phone. However, I bought it late in the game — around mid 2005 — so it was obsolete in more ways than one by then. My fault, really, but I still paid dearly for it (again, in more ways than one).
SIDEKICK AND KIN, BROTHERS FROM ANOTHER MOTHER(?)
It's hard to believe the Kin was built by the same guys behind the Sidekick. It actually had less features than its older sibling - now how did THAT happen? Both catered to same audience; while the Sidekick produced a series of hit phones, the Kin produced ads where hispters clumsily demonstrated what sexting is all about.
On the other hand, Android owes a lot to Danger (the talented folks behind the Sidekick's operating system), so I owe a debt of gratitude to them as well. There would be no Android without Andy Rubin — and he learned the ropes while working at Danger. While Microsoft allegedly ran Danger to the ground, Android caught the ball and ran with it.
MY NAME IS LUIS LEVY AND I USED TO OWN A SIDEKICK II
Then I bought a phone with Windows Mobile 5. And then, after much suffering, I finally saw the light.
End of line.